Zermatt is the mountain climber's paradise and Switzerland's southernmost summer and winter tourist spot. Mountain climbing, Skiing, Cycling or mountain-biking and Camping are the crazy things to do in Zermatt's fabulous mountains.
Mountain climbing:-
Zermatt is breathtaking and it is situated at the base of Matterhorn Mountain. The Matterhorn, the rocky range, is segmented in two distinct summits with a height 14,690 ft on the east and 14,686 ft on the west. An experienced mountaineer can only dare to climb this steep and challenging mountain alone. Otherwise, to take a mountain guide to enjoy Matterhorn climbing expedition. Mid-July to mid-September is the best time to explore Matterhorn, for the people with best physical health and expertise in rock climbing. Guide's arrangement starts for Matterhorn very early in the morning and it takes about four hours to reach to the summit and another four hours to descend.
Skiing:-
In Switzerland, Zermatt has the longest winter season. In few places in Zermatt skiing can be done almost throughout the year. There are ski areas for beginners, intermediate and advance skiiers. Matterhorn looks spectacular while Skiing on the Rothorn Paradise.
Cycling or mountain-biking:-
It is a trance tour for the mountain cycling or biking lovers. Zermatt offers the most famous and challenging routes, starts from the shadow of the Mont Blanc, Chamonix, France and to be finished at the Matterhorn, Zermatt, Switzerland. Mountain-biking takes the bikers through the villages of Switzerland and its breathtaking alpine summits and glaciers, from there, they can glance the beauty from the height. On the ride, bikers goes through various renowned passes, lakes, basins and all these are the bonuses for the bikers. On the one hand, bikers experience the delight of the height and in the other hand, excitement while descending from the mountain and finishing the climb with a 'hike-a-bike' section. Is not it crazy?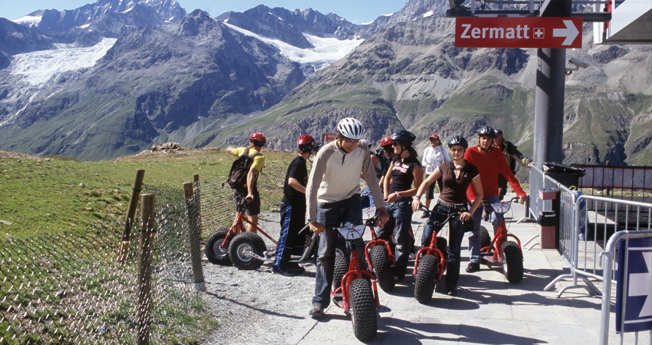 Camping:
The climate of Zermatt is mild, even in the winter also. Camping are for those who are on budget trip. For beginners, there is a camping area open in Zermatt during the summer months. Bit awareness about camping is suitable in staying warm, pleasant, happy, and open towards nature at much altitude, any time of the year. Stove fuels are hard to find, but still can be arranged from the shops in Zermatt. Now camping needs brain storming activities to overcome all the hurdles and then get food and comfortable rest at the end of the day is a full-filling idea and crazy as well!
Well, these are few crazy things to do in Zermatt, Switzerland.