The English Church is an important part of Zermatt's history and traditions. It is closely linked to the British visitors who were among the first to want to see and experience the Matterhorn. For Zermatt, the English Church occupies an important role in the resorts history. Consecrated in 1870, the church also represents the "golden age of alpanism". During the pioneering days of tourism in Zermatt in the 19th century, English guests made up the greatest share of visitors by far.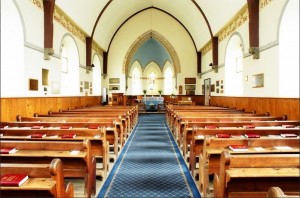 The first plans for the building of an English church were drawn up in May 1865, and a donation list was prepared at the same time. The two hoteliers Alexander Seiler and Joseph Clemenz were the first to add their names to this list, although they were both Catholic. The same year, on July 14th 1865, the British climber Edward Whymper completed the first ascent of the Matterhorn. Of the seven men who reached the summit, only three returned to the village. Four climbers, including Lord Francis Douglas, Douglas R.Hadow and the Reverend Charles Hudson, fell to their deaths on the descent.
The tragic end to the first ascent of the Matterhorn did nothing to impede the initiative to build the church, but actually strengthened it even more. The Marquis of Queensberry, head of the family of Lord Francis Douglas, and the relatives of Douglas R. Hadow immediately made large donations. The foundation stone for the English Church was laid on June 29th 1869, only five years after the start of the donation list. The first service took place one year later on June 29th 1870.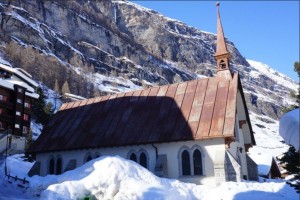 There are numerous plaques inside this historic church in memory of the mountaineers who had particularly close links with Zermatt and its mountains. The remains of Reverend Charles Hudson are buried under the main altar. Pastoral care for Protestant guests in Zermatt is provided by the Intercontinental Church Society. The clerics, who originated from England, are changed every two weeks and play an important role to this day. The Alpine Club of Great Britain celebrated its 150th anniversary in Zermatt in 2007. Naturally, a ceremony was held in the English Church.
This church is absolutely beautiful and is a wonderful place to pray or just to walk up to view the gravestones of mountain climbers which are placed around the church. They also offer Anglican services and pastoral care. The church is open freely but if is closed, you can get the key from Pharmacie Internationale.