The rocky moutain trails, to blooming Edelweiss around Zermatt many with the view of the magnificent Matterhorn presents opportunities galore to the zealous biking adventurers. The awe-inspiring alpine trails, the countryside roads lined with wildflowers and the farmlands dotting along with their sprightly natural colors, biking through Zermatt's trails is indubitably a pleasure to both the mind and the body. Take a glimpse at some of the most popular and coveted routes that bikers seek to traverse to satiate their adventurous spirit.
Zermatt to Schwarzsee:
A ride that demands a stamina to conquer climbs of 1,423 vertical meters but has an excellent view of the legendary north face of the Matterhorn, an ample reward for the effort expended. The route has gravel tracks, and is a technical challenge with steep trails but still is a beautiful scenic route along Furi to the dam near Zmutt. It also offers a wonderful view from Schwarzsee at the top of the trail making all the effort worthwhile.
The descent via Furgg is technically challenging but from Schwarzsee there is a great view of the Matter valley and to the Matterhorn with the Hornligrat ridge.
Gornergrat through Zermatt:
A legendary downhill run from Gornergrat to Zermatt offers everything that mountain bikers could wish for including fabulous views and trails full of variety. The trail starts from Gornergrat and the route leads down via gravel paths and mountain lanes along single-track trails and field ways, past alpine pastures, hamlets and beautiful mountain lakes.
The trail offers breath-taking panoramic views and is home to many beautiful alpine flowers with the Gornergrat observation platform and Grunsee lake which is excellent for a swim.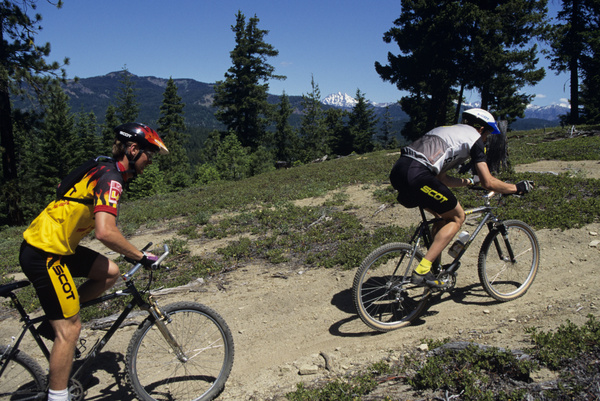 Tasch to Taschalp:
The ride up to Taschalp and deep into the valley begins with an ascent of the slopes above Tasch, mostly following small mountain roads. The climb is technically straight-forward but boosts fitness. The final section of the route after Taschalp leads deep into the secluded mountain valley at the foot of the Rimfischhorn. The sound from the cascading Mellichbach river with the pristine nature all around is comforting and relaxing. Back at Taschalp, there is a cheese dairy worthy of a visit.
Tasch to Randa:
A leisurely ride along the Vispa river and on other side of the valley, past meadows scattered mountain forests are absolutely beautiful. This family friendly route leads along the valley floor through forests, meadows and typcial Valais mountain villages. One of the highlights of this trail is from Tasch to Randa, with the view of the Randa landslide where bikers can view a vast cone of fallen rocks, with boulders as big as houses. There are many shady spots and barbecue sites ideal for resting and picnicking.