It's quite a disappointment when you get off the plane and see the beautiful Zermatt pouring with rain or snowing like crazy that makes it impossible to have fun outdoors. But don't worry! Zermatt has places to have fun indoors too in case like that.
Matterhorn Museum – Zermatlantis is placed next to the village church and has wonderful exhibitions. From the adventurous events that took place on the Matterhorn, thrilling and turbulent history of the world famous mountain to its African origin till the present day.
You can experience the myth of the Zermatt for yourself!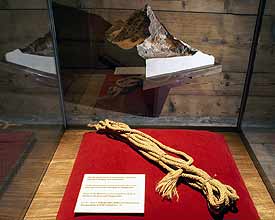 If you're in the mood of sitting back and relaxing, well what about a nice movie? Whether you want to watch current movies or classic shows, you can watch it! They even regularly show the homeland films  such as "Whympers way to the Matterhorn" and "People at the Matterhorn Village" which was filmed with single super 8 camera by August Julen who happens to be the father of Heinz Julen the artist and designer of the movie theatre Vernissage. Amazingly August Julen learned film making from his ski student Walt Disney! Most of the films are shown in the original version with German, French or English subtitle.
Not into movies? How about games for you and your families to play? The Country Bar has 5 billiard tables, 1 table football table, 3 photo play, 1 golf and 20 internet stations to keep you occupied. If you want to bowl, you can go to Restaurant Wiesengrund where they have 2 bowling alleys. They even have bar service so adults can definitely have fun there too!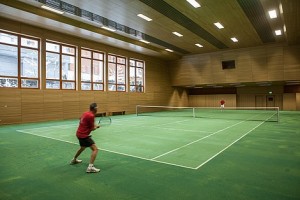 If you want to keep in shape for next day's hiking or climbing, well you can try Indoor climbing. Triftbachhalle has 7 meter high wall and an area of 140 square meters for you to climb! It can be just for fun or also can be a pre training for ice climbing. Also you can rent gears there so you don't have to worry about what to take with you!
In the mood for swimming? Well you got it! Zermatt has many hotels where you can enjoy swimming. Some places even have Spa and Jacuzzi!
Want to move your body but not in the mood for swimming or climbing? Believe it or not, Zermatt has a place where you can play tennis! At Hotel Alex they have Zermatt's only indoor tennis centre where it is spacious and joint-friendly "T-Floor" indoor surface. Yes you can rent tennis balls and rackets so you don't have to worry about taking your tennis rackets to Zermatt.